Continuing from the previous post, we made our way to S*cape to check out the Furniture Design Awards 2013(FDA), the 20th Anniversary for FDA and also other exhibitors.
NAFA's 2013 Product Design Students



NAFA have another booth at S*cape where their product design students create textures from items you can find anywhere. One of the more unique one is the cabbage look alike! But do not be fooled, the student used tissue paper, PVC glue

, water

and paint to create this.
Another exhibitor there was no stranger to our blog, was S U P E R M A M A. Their new collection and a new collaboration with Kihara a Japanese ceramic label called Democratic Society X Kihara Part 1.
Yes its part 1, cause they are holding a competition now to design the next plate that they are going to produce 200 pieces to sell! Dateline is 31st March 2013! so hurry get creative and send in your designs! All the designs you see here can be purchased at S U P E R M A M A at SAM 8Q.
FDA Competition & 20th Anniversary for FDA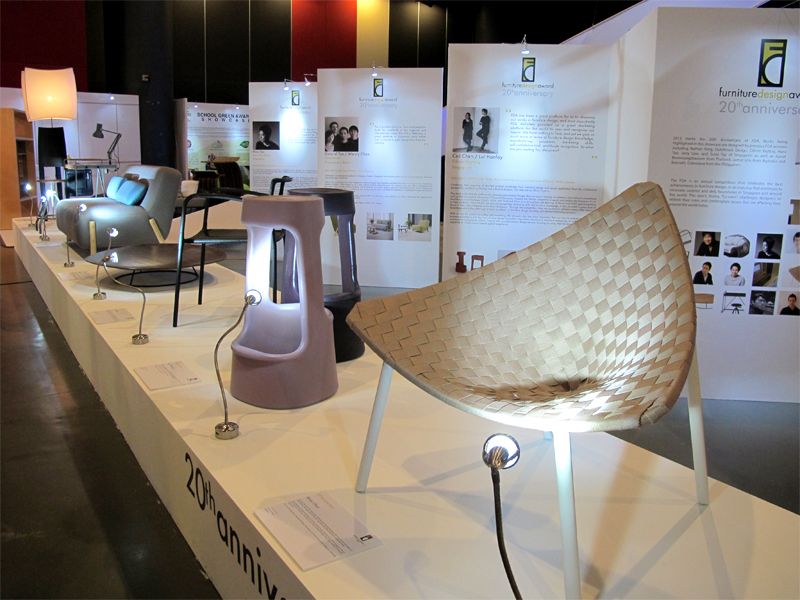 Furniture Design Award (FDA) 20th anniversary showcase of past winners.
The Furniture Design Award or otherwise known as the FDA. It's every challenging, an every up scaling task for designers. It questioned the role of a designer and makes one thinks deeper into the problem that are affecting lives around us. Today designers are no longer elusive or eccentric that only care about works of beauty, but answering the calls of global problems. And as furniture of today can no longer serves their main function beautifully but to also coexist in our limited environment.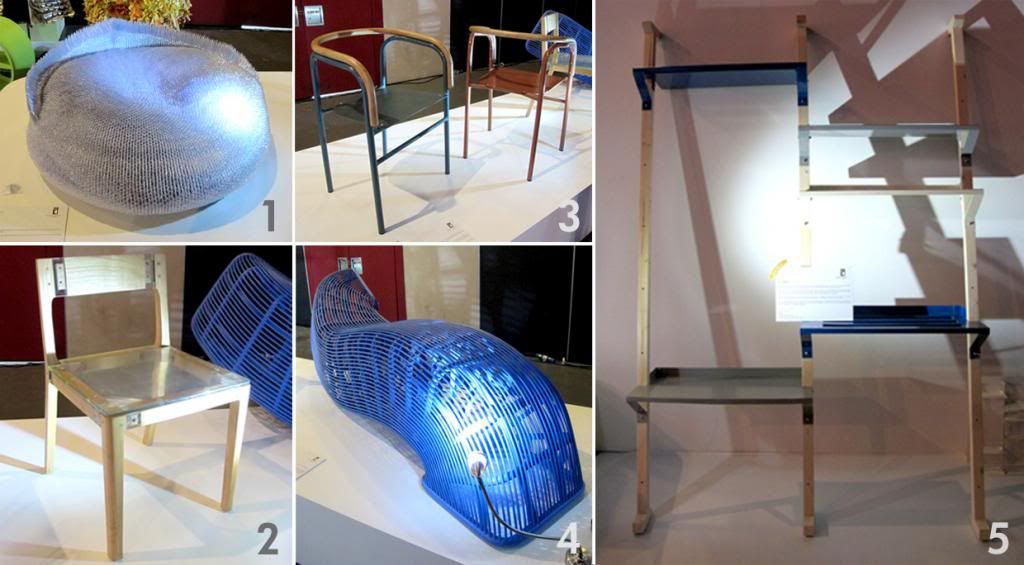 The works above are the 5 finalist of the student category, they have applied design to what they have experienced to solve the problems of what the modern world face today.
1: The Uni armchair by Wendy Kokaish from Nanyang Academy of Fine Arts.
United we stand, divided we fall. It mentions of that no man is an island, and in order to succeed we need to work together.
2: Exploded Chair
by Denny R. Priyatna from Bandung Institute of Technology.
Reminds us that no matter how advance technology has improved. It will always required a skill crafts man to turn the raw and undefined into a piece of product. The deliberation of using clear resin for the back rest and sitting is to allow the user to see the most important part of the chair, the jointing method.
3: Common Armchair
by Diaz Adisastomo from Bandung Institute of Technology.
It is made of aluminum and rattan. Despite the differences in the type of materials, they both share the common traits of being light-weight, strong and flexible. Diaz was inspired by the similar characteristic and background of these 2 materials and hence, Common chair.
4: Pipe seat
also by Denny R. Priyatna.
Intrigued by how pipes run through the wall, holes and even underground and even places unknown. Based on that fascination, Denny used rattan and iron pipe to translate that idea into something surreal. It is designed to look like it has no end and even connected to the next room, it is highly adaptable by being able to rotate and be used anywhere. By having it placing next to a wall, greatly increased its value in concept.
5: Co-Axis by Patpimon Onplui of Silpakorn University of Thailand.
It addressed the problem of modern home today of having limited space.
Co-Axis is a series of versatile shelving system, that is based on the concept of living together by sharing the same part and taking up little space. To answer to the need of each users, the aluminum shelves are highly adjustable. Co-Axis also come with a clothes and trouser racks and it is user oriented and easy to assemble as well. Not only that, the aluminum shelves comes in a wide range of colors to the owner's delight. Purple and Orange for me. :)
The works above are the 5 finalist of the designers category

1

:

Gong Shelf System by
Min Chen
is a modular formulated shelving system which consist of 3 metal sticks that are vertical to one another. This feature allows the shelf to be build and fit into any place or environment. Plastic or metal board that are cut to size can fit in-between the stick to allow the user to put their object above it.Not only that, Gong shelf system enables the user to completely customize it and it leave behind is an unfinished image of an architecture still in progress.
2: Shoehorn Umbrella
designed by
Sim Miao Ling

stand was inspired by the concept of "organization" which is an essential part of our daily life, It is a man's way of keeping things in order. But at the same time, being too organize may result in missing out on certain things. The idea of this design is to create a new perception and new values of organization. Sim Miao Ling observed how do one organized things and seek our new possibility of what can or cannot be organized. Miao Ling also described that how object are placed based on their associated surrounding, or are placed as a result of the transitory human's behavior. The ShoeHorn Umbrella stand is inspired by how this 2 object, the shoe horn and the umbrella stands beside each other near the door. The multiple curved edges of the umbrella stand allow for a single shoehorn to blend in quietly. Flat disc magnet ensure the shoe horn snaps back into place and stays there.
3 and 4: Artichoke and Hive, crocheted cushions designed by twin sisters Kasia and Monika Gwiazdowska, But in Singapore the designer sisters is represented by their business partner Piotr Saladra. Both the Hive and Artichoke were made by MONOMOKA furniture, and also from the same materials of 100% natural linen or any recycle twine.
Despite the many similarities between this 2, Hive was made of of 1,600 pale grey crocheted linen shapes and Artichoke was made of 156 crocheted orange and yellow polyester shapes. And when we gradually think back on how the Artichoke plant looks like, and then their natural color of green.
5:

Genterie and Nouveau by George Soo, described that the luxury crowd is becoming younger and savvier, and that whether wealth that are made or through inheritance. And with that success , comes an underlying existentialist angst and increasing social consciousness reverberating amongst a new luxury audience. Genterie and Nouveau was design based on the concept and expressed it through the consideration of material choices and dimension. And the decision down to the very last fabrics of the cushion is also taken into detail and consideration.
48 Hour Challenge
Winner of the 48 hour challenge: Air Division X Nafa Collaboration
This year,

5 retailers will be working with students from design institutions to innovate, revamp and reinvent their showrooms within 48 hours! and the finishing look for all the showrooms are truly remarkable in how much work they put in for just 48 hours~
The 5 participating retailers and schools are:
Air Division X Nanyang Academy of Fine Arts
Furniture Club X Inspiration Design
Jesprit X Temasek Polytechnic
V Furniture X Nanyang Polytechnic
NAFA students folded a total of 1500 paper cranes, and 1500 paper planes using recycled paper in 48 hours!
We thought that the Air Divison X NAFA design was the most creative, and we are not just saying that cause we are from that school, but the materials used were recyclables, so didn't have to spend money at all, and no wastage.

Labels: 48 Hours Challenge, Chairs, Craft, Design, Exhibition, Furniture, Furniture Design Award, Platform, Products, Singapore, Wood